Starting at £25.00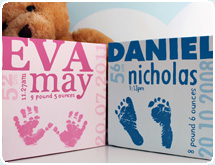 This bold hand painted newborn baby personalised canvas and hand / foot print kit would make a stylish and unique gift for the birth of a new baby. In either Pink or blue, it is completely customisable and features a newborn baby/child's name(s), date of birth, birth weight, height and time of birth. The canvas edge can be painted in six optional designs, a modern or traditional type face. A space is left on the canvas and 100% safe, non toxic paint is supplied for you to add the finishing touch by adding your newborn baby/child's hand or foot prints.
Starting at £9.99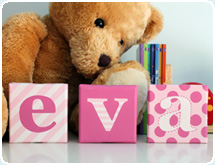 Beautiful original hand painted children's patterned alphabet canvases by Sweet Pea Murals, choose from 8 stunning brightly coloured canvas designs in either pink or blue. Spell out your child's name with these fabulous hand painted canvas letters and create your own striking combination of letters and patterns. Available in 2 sizes, these canvases make an ideal gift, for a new baby, a personalised christening or baptism gift, a birthday or Christmas present, or simply a great way to brighten a child's bedroom, playroom or nursery.
Starting at £25.00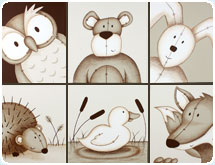 A lovely collection of hand painted children's woodland neutral canvases in soft beige, creams and browns. Choose from 8 striking woodland animals; an owl, bear, rabbit, hedgehog, duck, fox, squirrel or badger. Available individually to create your own unique set. These hand painted canvases are an original design and made to order. Painted onto a artist quality deep edge canvas, with staple free sides allowing the painting to extend to all edges. Eyelets and string fitted. No need for framing. Available in 3 standard sizes, Small Medium and Large.
Children's Personalised Animal & Name Canvas
Starting at £30.00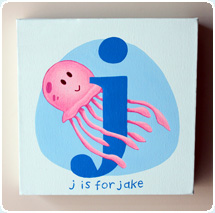 **COMING SOON - AUGUST**
Beautiful original hand painted children's personalised animal & name canvas will undoubtedly delight your child, or his/her parents and friends alike. Cleverly combining education, art and fun, the canvas has the capital letter from the first name of the child and is wonderfully illustrated with an animal also beginning with the same letter. Available in 2 sizes, each canvas is hand painted and can be personalised with your child's name, a child's date of birth, weight or special message can also be added to the canvas for a truly unique baby/child's gift. Alternatively you can order every letter to spell out a child's name, making a beautiful original piece of art that would make a totally unique gift for any occasion. Whatever the reason, they can be the final touch to a child's bedroom, playroom or nursery.